Which reversing camera is best?
The key things to consider when buying a reversing camera are:
Screen mounting location
Screens can be mounted on the dashboard or windscreen, such as VECLESUS VM1 4.3 Inch Wired Backup Camera System. Or added onto your rear view mirror using an innovative mini screen, such as our VECLESUS VT1 4.3 Inch Car Rear View Mirror Monitor System Kit. For both options, the screen will only turn on automatically when your car is put into reverse, so you won't be distracted when you're travelling forward.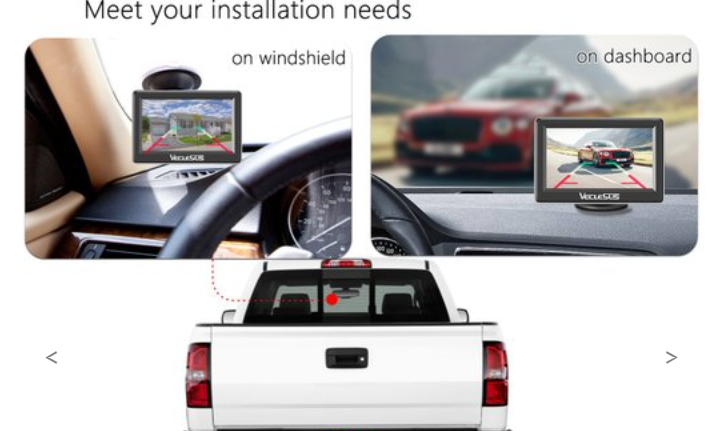 Viewing angle
Just like any camera, the viewing angle is an important feature is it will dictate how much you'll be able to see at the sides of your car as you reverse. Viewing angles are important for reversing cams, with a wider angle giving drivers a much better overview of not just what's directly behind the vehicle, but anything approaching from the sides and into the path of their reversing vehicle. VECLESUS VC1 License Plate Backup Camera, 149-degree golden viewing angle offers vivid video.

Camera mounting location
The camera itself will need to be mounted on the rear of the vehicle, and there are a few options. You can opt for a tiny camera that fits behind your number plate, a camera that replaces your existing boot handle or reversing light, or a pedestal camera that sits just above your number plate. The big benefit with a boot handle reversing camera is that it's barely visible, whereas a pedestal or number plate camera will sit either above or below your number plate and will be on show at all times. Number plate reversing cams use a small camera mounted below or above the number plate, or can be attached to a bracket which sits behind the number plate, to provide footage. All wires are hidden by the number plate, and the only thing visible is the small camera itself.

Dynamic or static parking lines
Some reversing cams are capable of displaying guides on the screen that show where the rear wheels will end up depending on the current angle of the steering wheel. These are known as dynamic parking lines, and are very handy if you're trying to fit into a tight space but aren't sure if your car is going to end up straight. We also stock reversing cams with static parking lines which are also useful, but they won't change as the steering wheel turns - they're there to provide more of a rough guide that will help you get the car straight.