It is widely available with several electronics manufacturers competing in the market for backup camera system for cars. While the primary mission of these backup camera is simply to provide a view to the rear while you're parking or backing up, they also offer a safety advantage because they can help you to see a child, pet, or hazard.
Our previous tests of a few aftermarket models found that performance generally tracked with price—another case of "you get what you pay for." That said, even the worst performers are better than a beeper-type parking aid at seeing objects or people behind the vehicle.
Why you need to eliminate the blind zone
Every year, thousands of children are hurt or killed because a driver backing up but didn't see them. The safety advocacy group calculates that two children are killed and 48 are seriously injured this way every week in the United States. For the most part, back-up incidents take place in residential driveways or parking lots and about three-quarters of the time it is a parent or close relative who's behind the wheel.
The main reason that back-up accidents are so frequent is that every vehicle has a rear blind zone—from the driver's seat, they can not see them. And that rear zone is bigger than you might think, ranging from about 25 feet for a minivan to 50 feet for some pickup trucks--plenty of space for an unwary child to be in harm's way. (Read: The danger of blind spots.)
Many new cars have proximity sensors that beep with increasing frequency when you back toward solid objects. The sensor systems might work well as parking aids but they aren't informative enough to tip you to the presence of someone, particularly a small child.
Other vehicles have backup cameras incorporated into their ($2,000 to $3,000) navigation system and some appear in the rear-view mirror. When you shift into reverse, the screen shows a wide-angle or fish-eye view to the rear. Backup camera systems are much better at revealing objects you could not see through the windows and mirrors.
Aftermarket sensor and rearview camera systems allow any vehicle to be retrofitted with some sort of warning device.
How they work
Aftermarket backup cameras have adopted various designs. A small rearview camera is sometimes built into a license-plate holder or top and rear of the vehicle.
Systems typically use a video screen built into a replacement rearview mirror, an accessory add-on monitor for the existing mirror, or a flat screen that mounts to the inside of the sun visor. Some systems are wireless, but most require wiring that snakes through the vehicle from the rearview camera to the system's video display and on to the car's electric power system. Our Veclesus backup camera system is very easy to instal.
If you're trying to mate up your vehicle with a trailer., then with a backup camera, there's no need to look for a helper to call out directions.
VECLESUS VMH 1080P Backup Camera Kit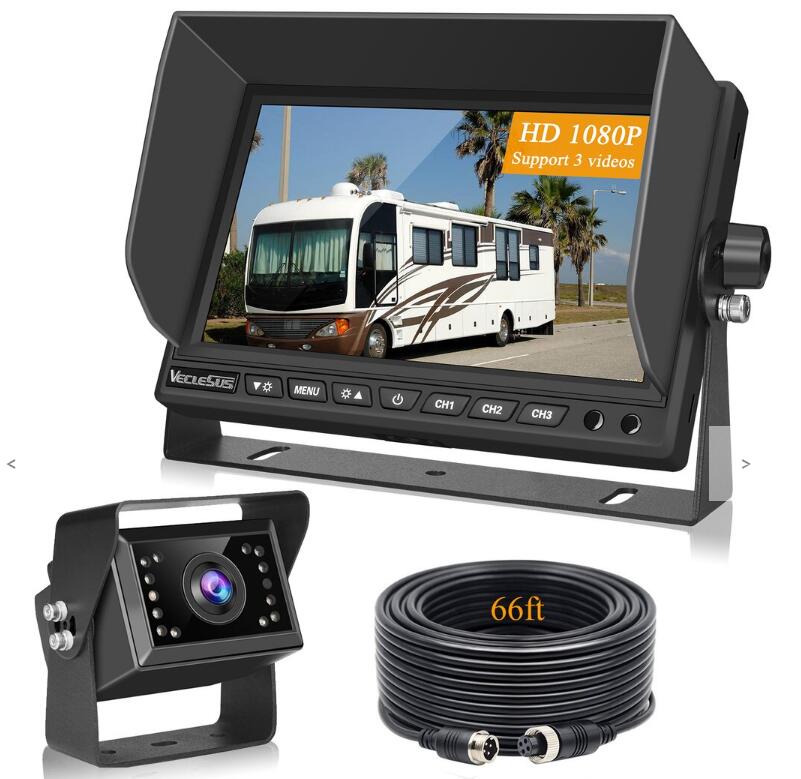 The Veclesus wired backup camera has 149°wide viewing angle. It also has a great senson which provide effective 1080P high resolution, it is enough for recrease awareness for safe driving.
The camera has infrared night vision. And power supply for the camera is ranged from DC 12-24V.
Its IP69K completely waterproof rating make it works well under damp environment. The camera has an adustable heavy duty metal sunshade, protecting camera from glare and pebbles.
Veclesus VMH backup camera is tough enough offering you reassurance and safety.