Do you want to learn driving? Great idea, because it is interesting. However, at the same time it is also dangerous. Make sure that you can learn to drive from an experienced experts. The most sensitive part in driving is reversing the car. While doing this you will have a chance to hit babies or animals when you can't see them.
Nowadays technology keeps on working to make us safe from any unwanted incident. The wonderful invention is to produce best license plate backup camera for the car. Veclesus license plate backup camera is the just life saver and guides for every driver. You will see everything behind your car while you are backing your car. Here we will introduce the top backup cameras that are very popular among drivers. Let me take you a pleasant drive in this article.
How did we pick license plate wired backup camera?
It is necessary to have a device for any car with a license plate backup camera. It is no wise to reverse a car with your blind spot. You can also have a safe drive with a dim light condition or at night. Therefore, we tried to pick the best license plate rearview camera considering some features.
They are:
Image sensor: The backup camera has a type of an image sensor-CMOS. The CMOS is not only cheaper in price but also good quality.
Angle: When you choose a backup camera for your car, make sure you can set the angle per your requirement. Best angle of a car camera is 170 degree.
Night time drive:
Backup Camera with colorful night vision is perfect for all car. When you drive at night, this bacup camera will help you to drive safely in dark.
Camera with mirror image:
The mirror image is the most important fuction of a backup camera car. With this, you can see what is behind your car.
Auto system:
It is easy to control the camera automatically when you are reversing your car. If you get a camera, it is only to connect to the monitor of your car, then it will turn on automatically when backing a car. It is very convenient.
Weatherproof:
An very important feature of a rearview camera. Sometimes you have to drive in rain, heat, and cold weather conditions. Our rearveiw camera is adjustable with these weather conditions, it is IP68 grade waterproof.
Our Best License Plate Backup Camera VC1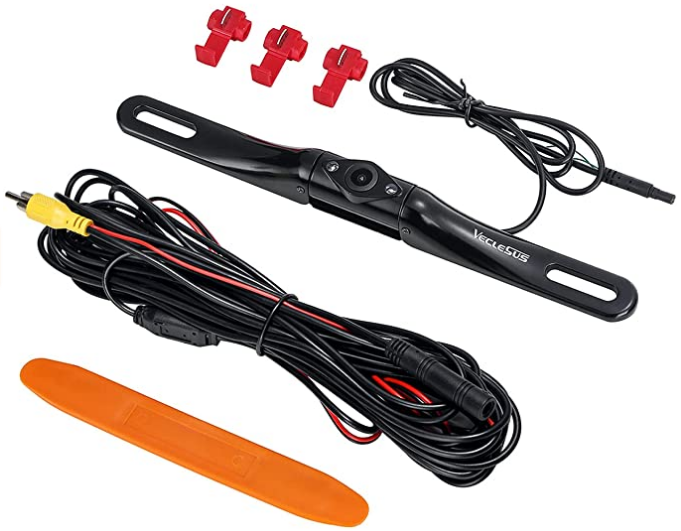 Summary
Best license plate rearview camera is a life saver for every driver.You can drive and park your car easily and safely with it. Sometimes when you are in hurry or in an emergency situation, your mind doesn't work swiftly when you are reversing your car. Therefore, you may face a fatal incident. To help you in this situation the backup camera is just perfect. You just drive in a car, start and reverse the car. The rearview camera will show you the situation. When you are driving, be calm and cautious, use the backup camera properly. Drive safe and be safe.