Backup Camera Features You Didn't Know You Needed
Backup cameras can do a lot more than just broadcast footage. Many come with a wide range of features that you may not know.
Infrared
Many backup cameras can help you see in the dark by using infrared technology. This is certainly a handy feature, as many accidents happen in the dark when vision is especially impaired.
When considering an infrared feature, it's important to understand a backup camera's lux rating. A lux is simply a measurement of how much light a camera needs to function. For example, if a camera has a lux rating of .1 then it can still function under the light of a full moon. A lux rating of 1 is the same light level as dusk while 0 is absolute darkness. Once the light level in the environment reaches below the camera's lux rating, you will need infrared or night vision features for the camera to project clear images.
If you often drive late in the day or at night, then a camera with infrared technology and the ability to function in low light conditions is a must-have safety item.
Waterproofing
The housing of your rear view camera is also an important consideration. If you live in an area that gets a lot of rain or you regularly drive in such conditions, then waterproof casing on your backup camera is a must-have feature.
When looking for a waterproof camera, be sure to look at the Ingress Protection (IP) Rating as this measures an enclosure's ability to keep out foreign matter such as dirt, dust, or water. IP Rating measurements are two digits: the first measures on a scale of 0-6 how well the enclosure protects against particles and other solid matter, the second scale of 0-8 measures water protection.
In general, you'll want your backup camera to have an IP rating of at least IP66 and IP67 to provide adequate water protection.
Our VECLESUS VC1 License Plate Backup Camera with IP68 waterproof rating hence safe for outdoor use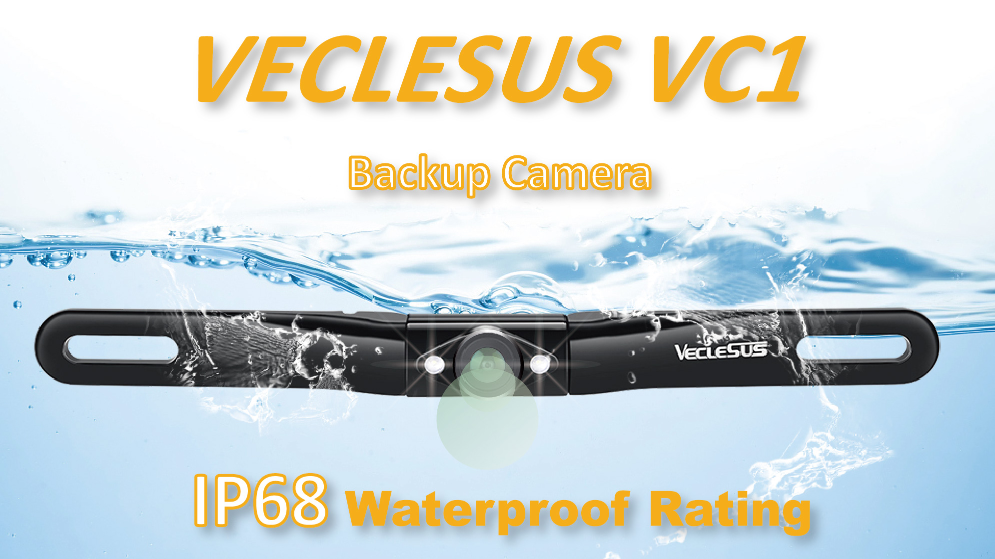 Camera Angle
Most rear view backup cameras today come with a 120-degree viewable angle, it is the minimum you should have and if the option to upgrade to 170 degrees is available we suggest you take it. This will allow you to see approximately 3 lanes behind you. Our VECLESUS VT1 4.3 Inch Car Rear View Mirror Monitor System Kit, angle of the camera is 149 degrees, makes a wide visual field without sight blind area.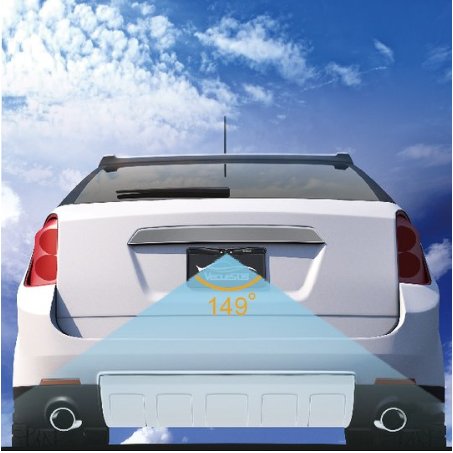 Guidelines
Guidelines are an excellent feature that makes backing up far safer. They can also prove to be of great assistance when backing into a parking space.
The left and right lines measure your vehicle's width with a little room to spare. The pink or red line is roughly 18 inches away from your back bumper, and if you're going past it then you're about to hit something. The line above the pink line measures roughly three feet from the back of your vehicle and is a good guide point when backing up or parking.
Guidelines help not only with parking an automobile, but also with RVs and trailers which can prove more difficult to park and backup.