Some customers are confuse how to install our best seller VT1 backup camera. Here is the information you can follow up.
How to turn on backup camera while driving honda (toyota/ford/silverado/chevy/forward/pioneer/gmc),No matter what car, but how to use reverse camera while driving. The starting principle is the same, rear view driving camera are divided into wired cameras and wireless mirror camera. Our product VT1 is best seller at Amazon and official website. The installation is simple, you can set in trucks, SUV, RV, or any car you want. Here is our product introduction and backup camera installation guide.
Very Easy to Install - Universal mirror monitor design can cover the original rearview mirror easily. Two power supply modes: Powered by car charger on car cigarette lighter or fuse box in the cab for concealed mounting(12-24V available). NOTE: This unit is not a dash cam, without DVR function, just for parking/reversing or continuous viewing while driving.
Two Usages - Ignore the green reversing wire can be used for continuous viewing, or connect the reversing wire to reverse light and long press the power button on the monitor to close the screen, the monitor will turn on automatically while reversing.
Widely Used - Cost-effective car backup camera system for car reversing/driving safety, works perfectly at voltage range 12-24V DC power, 10M (33ft) extension video cord from backup camera to monitor, suitable for all cars, sedans, SUVs, pickup trucks, tractors, trailers, etc, either for new or old cars.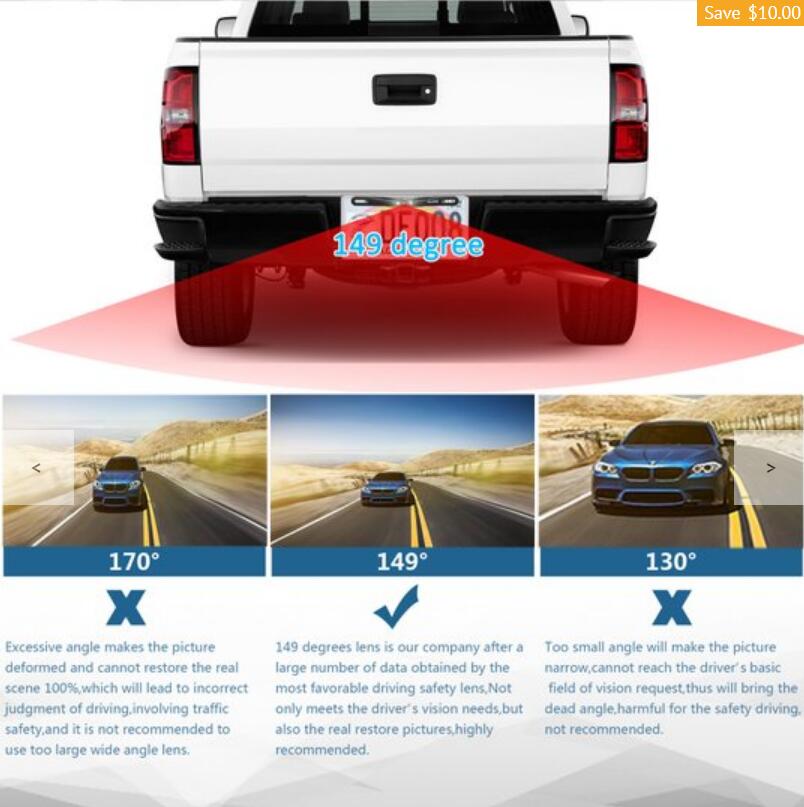 The backup camera is also very easy to install. It is designed for install on the Vehicle license plate directly. No need to drilling a hole.
The system is a supplementary funciton only.It is the reasponsibility of the driver to always check the inside/outside rear veiw mirrons and the area behind the vehicle before and while backing up because there is a dead zone that can't be seen by the backup camera.
Always keep the rearview camera lens clean.If lens is covered with foreign matter, the camera may not operate normally.